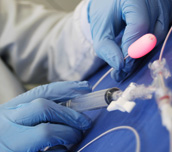 Medlight S.A. is a Swiss medical company founded in 1997, which develops, manufactures and commercializes a broad range of optical diffusers, as well as ancillary devices such as needle catheters and balloon catheters, as a key player in the Photodynamic Therapy (PDT) and Photoimmunotherapy field. ​
Medlight further solidified its industry presence after joining the Rakuten Medical group in 2020, receiving strong support from the group, while also continuing to operate as an independently managed subsidiary.
With over 25 years of experience of complying with the highest regulatory standards, Medlight has a proven track record of ISO certification audits without any major non-conformities, and having been granted commercial approval for 2 product categories by the Japanese Ministry of Health, Labour, and Welfare.​
In addition to providing a robust selection of existing standard off-the-shelf devices, Medlight is continuously innovating and developing new devices, internally and through partnerships, to meet as many patient needs as possible.
Disclaimer: Under the new Medical Devices Regulation (EU) 2017/745, certificates issued under the MRA by conformity assessment bodies established in Switzerland are no longer recognized as valid as of May 26, 2021. As a result, Medlight SA is impacted by this amendment. Although Medlight has earlier obtained a CE certificate under 93/42/EEC that was valid until May 2024, the validity of its CE marking is impacted by this amendment due to the ongoing negotiations between Swiss and EU authorities. Medlight is working diligently to resolve the situation by obtaining a valid CE mark under the new Medical Devices Regulation (EU) 2017/745 in compliance with all applicable laws and regulations.​